Pronovias / Atelier Collections: from £1400 to £6000
The wisdom and skill of expert seamstresses transform fine fabrics into haute couture designs. Pronovias know that every fairy tale has a different leading lady. That's why it has created a beautiful collection for romantic, classic brides, as well as modern, daring heroines.
Kirsty Jane Couture - Wedding dress designer
Tailoring means customisation. The Kirsty Jane Couture collection isn't simply a dress but an exclusive made dress for each bride, This collection can be designed exclusively for each brides silhouette by selecting your style of dress choosing your preferred fabric and working with her to create your customised look. Prices from £850 to £3000.
Nicole Sposa, Jolies - Ivory Pinks exclusive stockist for Scotland
A unique collection only available in the most important boutiques in the world.
Soft, sliding lines, glamorous naked backs become elegant with luxurious embroideries. Contemporary details and bright jewellery on precious silk name Alessandra Rinaudo the icon of style.
Justin Alexander, Sincerity
Fall in love with the Sincerity Bridal Spring 2019 collection. This season the collection embodies the graceful princess with a slight hint of edge. Enchanting details create a magical feeling that will not be soon forgotten. Prices from £850 to £1700
Hayley Paige Wedding dress collection - Ivory Pinks are the exclusive stockist for Scotland
Hayley Paige, head designer of the Blush and Hayley Paige bridal collections, made a jump start in fashion by interning for Nina Garcia at Elle magazine while attending Cornell University.
Fresh, lively and confident, Hayley Paige embraces sweet femininity with a touch of edginess and alluring contrasts. Ever so eclectic, her designs capture a romantic and charming aesthetic that balances inner ingénue and sophistication. Her interpretation of worldly influences and desire to dress hopeful romantics, have provided a foundation for a fanciful and fresh take on bridal wear.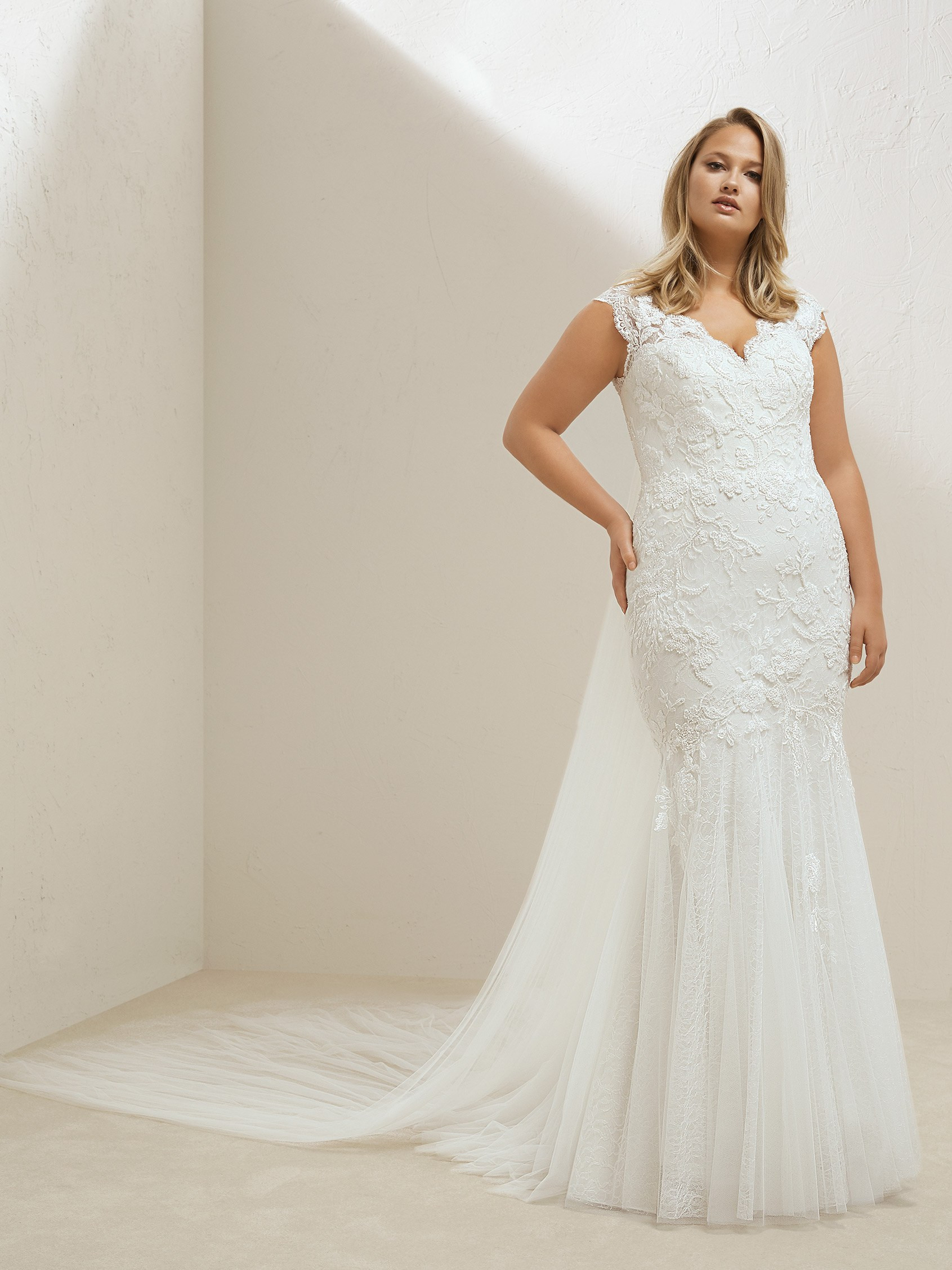 Love your curves collection
COMING SOON ! NEW BRIDAL ROOM:
Love Your Curves collection, Bridal dresses by San Patrick, Pronovias,  and Justin Alexander Sincerity Prices from £750 sizes 20 to 30
Herve Paris
Celebrating the Bohemian way of life from French design house Herve Paris. Showstopping dresses with exquisite laces, silk fabrics for a soft elegant bridal look.
Prices from £1,200 sizes 2 to 24.
Ready to Wear
Our ready to wear  room offers dress to take home on the day.  All dresses from £550.
To view the full collection book via the booking page or just call. This is a small selection of images which change weekly.
Contemporary, Stylish and designed by some of the top bridal designers, We have over 100 ready to wear and take home bridal dresses to suit every bride. From size 10 to 20.
Designers: Miss Hayley Paige, Atelier Pronovias, Pronovias, San Patrick, Justin Alexander and more.